Tag: double-breasted
Menswear collections
Spring/Summer 2018 - a collection filled with ice cream sundae colors, lots of texture and abstract prints inspired by rocket ships and bits of machinery. Short-sleeve shirts came hand-embroidered with abstract, Kelly-like swirls while scarves boasted busy patterns of rings, circles and dots. There were matte fabrics galore, as in a nubby micro boucle — that looked from a distance like terrycloth — for a short bomber-style jacket, while Lamb worked a crosshatch one into a double-breasted suit.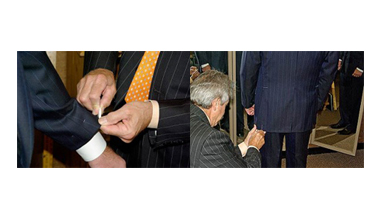 Made-to-measure suits
Mass-made clothing is, of necessity, sized for the masses. Dimensions are reduced to the most likely measurements and produced accordingly. Ready-made suits are made to fit the average person. The trouble is that no one is average. At Nathan's, we consider much more than just your measurements. Crucial to the balance of every Nathan's garment are details such as shoulder description, posture and hip level.