Savile Row - the most famous street in London
In a world where designers are appreciated more than craftsmen, Savile Raw remains one of the last bastions of traditional cutting and tailoring. There reigns strictly and traditional division of labor.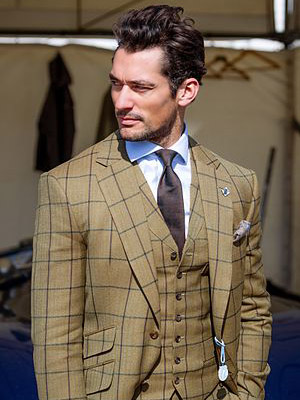 A `Cutter` is some sort of an architecture of the suit, who designs the cut and shape the fabric pieces. A `Tailor` is the one, who assembles the suit. Usually one tailor sews only coats, vests or trousers and is called respectively a `Coat maker`, a `Vest maker` and a `Trouser maker`.

The cutter is in charge during the `Fitting`. With his corrections, the suit is turned to the other specialists. Of course, he can finish the suit by himself, because to become a cutter, he has studied the craft in dept. This understanding of the essence of tailoring is what defines a cutter from a designer - the last one knows about the craft enough just to prepare the projects for an industrial manufacturing.

For the international character of Savile Row - which today stand for the traditions of the British tailoring in a special union, Savile Row Bespoke Association - an important role had the excellent Jewish tailors from Poland, Hungary and Germany, who went there in the end of the XIX century. They've mixed the definitions for elegance from their home countries and the English expertise for style, making even more popular the 'home of the bespoke men's suit`.

In the contemporary world, maybe only in England and Italy, there is such high class clientele, knowing what is a really good custom-made suit, in the sea of ready-to-wear garments. Of course the prices are also pretty high.

The process of creating a bespoke men`s suit takes about 40 hours and it is considered indecent this period to be shortened.


Hits: 4476 | Leave a comment
Author: Boyana Ivanova on
The voice of the professionals in the men's suit business
If you want to share your knowledge and contribute to the site, please email us at contributor@bgfashion.net Don't miss this opportunity as this will be a free advertisement for yourself and your menswear brand.