Tag: garments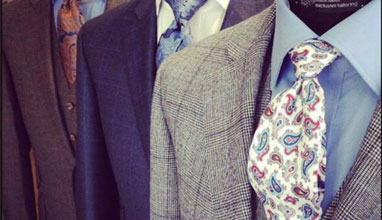 Made-to-measure suits
roomten are an exclusive British tailors creating elegant and fitted suits. They find more people are seeking out exclusivity and comfort through our Bespoke or Made-to-Measure suits, coats and more. They specifically tailor your garment to your body, your taste and your personality. The cornerstone of their success is their 'West End' and 'Mayfair' blocks that they have developed over years to create a flattering appearance whilst still adhering to the principles of Savile Row tailoring.
Bespoke Suits
Whether bespoke, made-to-measure or ready-to-wear, the process starts with a conversation. They'll listen to your needs and give you a drink before offering their expertise.
Bespoke Suits
Producing only the highest-quality garments, Richard Anderson clients have come to expect excellence as a given. Richard Anderson's clientele - many of whom are leaders in their own fields - are uncompromising in their demand for quality.